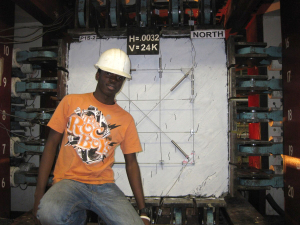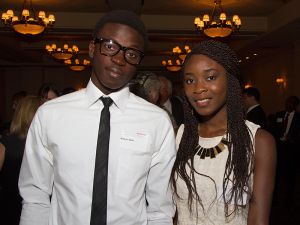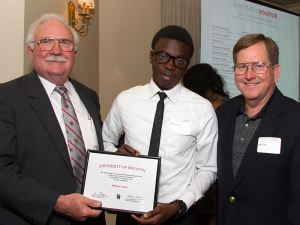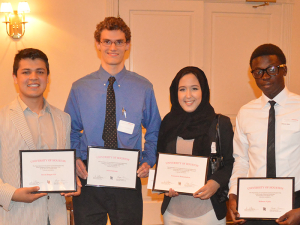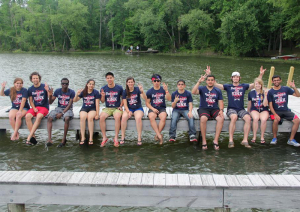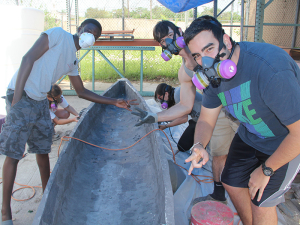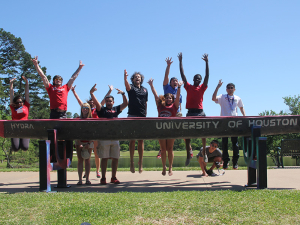 Ridwan Ajala, a beloved undergraduate student at the UH Cullen College of Engineering, passed away on Tuesday, June 24th. Ridwan touched many members of the Cullen College community with his incredible work ethic, infectious positive attitude, and dedication as a student and friend. To say that he was loved and will be missed by our community is an understatement.
Ridwan was an extremely determined and involved civil and environmental engineering (CEE) undergraduate student who was transitioning into the electrical and computer engineering department. While pursuing his bachelor's degree in CEE, Ridwan often took on work beyond what was assigned to him in his classes. His fantastic work ethic and positive attitude even stood out to DJ Belarbi, professor of civil and environmental engineering, who had Ridwan as a student in his "Mechanics of Solids" class last fall.
"Ridwan was one of the most amazing students I've ever had in terms of character, behavior, work ethic, politeness and attitude," Belarbi said. "His personality was one of the best – just an amazing person to work with." In fact, Belarbi said Ridwan's skills and commitment stood out so much that he was recruited to work in his structural engineering laboratory alongside CEE graduate students Guang Yang and Mehdi Zomorodian. According to Yang and Zomorodian, Ridwan was an invaluable member of their lab group right off the bat -- a rare accomplishment for any engineering student juggling class work with research, but even rarer considering Ridwan was a mere freshman.
"Ridwan started working with us around two years ago when he was a freshman. He was full of energy, and had lots of motivation to work and learn. He finished the tasks he was assigned without any flaws. Ridwan was friendly, polite and caring. He was truly one of the nicest guys that we have ever worked with. He was always active, hardworking and creative when helping us in the structural lab. When he was around in the lab, everyone noticed him and admired his passion, commitment and hard work. It was a privilege having him in the lab," said Yang and Zomorodian.
It was during his time working in Belarbi's lab that Ridwan first met CEE undergraduate student David Ibague, who said he went to Ridwan for advice on opportunities and scholarships for international students. Ibague said that Ridwan, who was an international student from Nigeria, jumped at the opportunity to help out another international student at the college. "I went to Ridwan for help and he was extremely kind and helpful to me," Ibague said, adding, "without his help I would never know all the opportunities the department had to offer to international students. It is thanks to Ridwan that I now have a job and have also gained some work experience in the field."
Ridwan was also very involved with the UH chapter of the American Society of Civil Engineers, or ASCE. Last year, Ridwan held the position of UH ASCE officer and helped the student organization to fundraise within the community. Sebastian Hernandez, a civil engineering undergraduate student as well as UH ASCE president from 2013-2014, said he remembers Ridwan as "truly one of the nicest guys that I have ever met," adding that Ridwan spent many hours helping the student group to reach their fundraising goals.
"He would always greet you with a smile and ask how you're doing. He truly cared about the people around him and also put forth great effort to do well in his classes. He was a hard worker, a great student, and an even better friend," said Hernandez.
Ridwan also participated in UH ASCE's Steel Bridge Competition, where UH civil engineering students compete with other college students across the country to design, fabricate and construct a steel bridge. Julius Serrano, a CEE undergrad, worked closely with Ridwan on the Steel Bridge team. "Ridwan was a classmate and a friend. He was always very friendly and approachable," Serrano said. "I remember the first time I met him was when he joined the steel bridge team. He was inquisitive and enthusiastic… hard working and determined."
Even outside of his obligations with student organizations and lab work, Ridwan was determined to help others in the college. Youssaira Belmokadem, a civil engineering undergraduate student who met Ridwan in her very first Cullen College engineering class, said she spent many hours studying and working on homework with Ridwan before their classes. "This is who he was: Honest. Nice. A good, good person. And I mean a good person, someone who had a truly good heart. He was always willing to help," Belmokadem said. "He was great to have in study groups because he was so helpful. He wouldn't just point out a mistake you made in your work, he would help you try to find the source of the problem and find the right answer to the question."
Although Ridwan shined during his time as a CEE undergraduate – even earning a spot on the Dean's List for his exceptional G.P.A. for two semesters – he decided to transfer to the electrical and computer engineering department this summer to pursue his true passion: computers. According to many of Ridwan's classmates and friends, they were not at all surprised to hear of his recent decision to switch majors to electrical and computer engineering (ECE) because of his love for computers, but were saddened by the prospect of Ridwan's absence from their future civil engineering classes.
"He loved movies and computer games. He was always laughing and smiling," Ngo recalled. "I was sad when he told me he was switching majors because I knew I wouldn't have classes with him anymore."
According to Serrano, Ridwan's decision to switch his major to ECE was evidence of his passion and determination to pursue doing what he loved. "He told me that he liked computers so it was an easy decision for him. Even though he had already been in civil engineering for a few semesters it didn't deter him from following his passion," explained Serrano.
Ibague added that, much like everything else Ridwan did, he pursued his passion for computers with dedication and enthusiasm. "I remember him saying over and over that he was going to be the smartest kid in the [ECE] department. That he was going to come up with a world-changing new app. He was really excited about it."
Members of the Cullen College community who knew or had the pleasure of interacting with Ridwan also spoke of his infectious positive attitude, helpfulness to his peers, and devoted friendship.
Reagan Herman, associate professor of civil and environmental engineering and director of the CEE undergraduate program, spoke of Ridwan's incredible enthusiasm and positive outlook. "He was such a bright, happy kid," Herman explained. "Every interaction I had with him was a pleasure."
Because of Ridwan's involvement in so many activities around the Cullen College, as well as his constant willingness to help and support his fellow classmates, his memory will continue to live on in the hearts of our Cullen College students, staff and faculty members.
"We lost a truly good friend and co-worker. Rest in peace, dear Ridwan. You will be missed," said Yang and Zomorodian.
"We'll miss him," said Belmokadem. "We'll miss him in class, in school, in every part of our lives here."
"The world lost a great person when Ridwan passed away. He has touched everyone he's met and he will live on through us in our hearts," Ngo said.
"I miss him very much," Ibague said. "I am confident he is now in a better place…and he will be watching after me, his Colombian friend, making sure I graduate."
Joseph W. Tedesco, Elizabeth D. Rockwell Professor and Dean of the Cullen College of Engineering, said that although Ridwan's passing comes as an enormous loss to us all, we must bind together as a community to support one another as well as Ridwan's family and loved ones during this very difficult time.
"Words cannot express the amount of loss felt on behalf of our entire college. Ridwan was a cherished member of our Cullen College family who seemed to positively impact everyone he came into contact with," Tedesco said. "Although we will be struggling to come to terms with this loss for some time, it is very important that we come together to support one another as well as Ridwan's family members and loved ones during this very difficult time."
For those in the Cullen College community who may need additional help and support during this extremely hard time, please know that there are free counseling and psychological services on the University of Houston campus year round. Click here to learn more about CAPS, Counseling and Psychological Services.