ECE Professors Named Directors of Honors Engineering Program
Electrical and computer engineering (ECE) professor Fritz Claydon has been appointed director of the Honors Engineering Program at the UH Cullen College of Engineering, with ECE associate professor Len Trombetta appointed as associate director.
The Honors Engineering Program (HEP), which began in 2010, is jointly offered by the Cullen College of Engineering and The Honors College as a program that cultivates community among honors students pursuing an engineering degree, and provides an enhanced academic experience through project-based courses, mentorship opportunities and visits with industry partners. Designed to promote innovative thinking, HEP combines team-building activities (such as building Habitat for Humanity homes or visiting local companies) with more intensive classroom lessons.
The program also gives these academically-gifted students a larger selection of more comprehensive versions of existing engineering courses in smaller classroom settings taught by leading Cullen College faculty. Cullen College students currently make up about 20 percent of The Honors College enrollment.
Claydon previously served as the college's associate dean for undergraduate studies (2004-2008) and research (2008-2013). He has been an active supporter of many of the college's ongoing National Science Foundation (NSF) STEM outreach efforts, such as GRADE Camp, STEP Forward Camp, and the GK-12 Program. Claydon also serves as program manager for both the NSF Research Experience for Undergraduates (REU) program and the NSF Research Experience for Teachers (RET) program.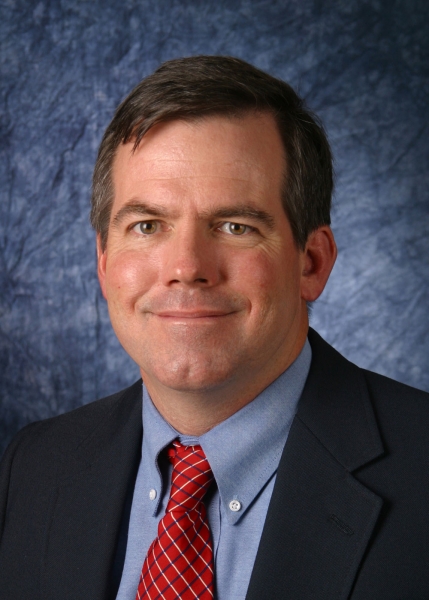 Dr. Fritz Claydon
In his latest role, Claydon will use many of the learning experiences he gleaned from his STEM outreach and retention efforts to provide HEP students with challenging classroom lessons inside of a comfortable and supportive learning community.
"Our goal is to immerse students in a curriculum in which they see the relationship between their course subjects and the problems that await them as practicing engineers," Claydon explained. "For incoming freshmen, the National Academy of Engineering's Grand Challenges of the 21st Century is a wonderful template for students to see the correlation between engineering study and practice."
Much like Claydon, Len Trombetta has also devoted much of his time and energy to supporting ongoing STEM initiatives at the Cullen College, serving as a GRADE Camp and STEP Forward Camp lecturer and workshop facilitator. Trombetta received a Career Teaching Award for excellence in teaching and service to students from the Cullen College in 2010.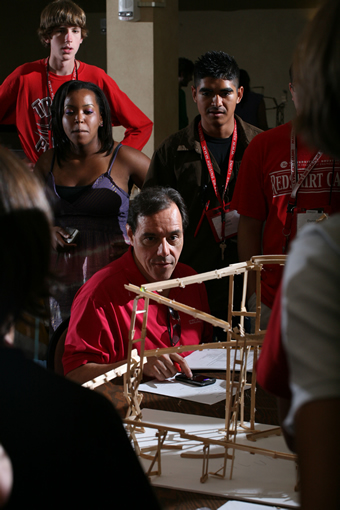 Dr. Len Trombetta assisting STEP Forward Campers
Trombetta is also very active in the ECE department's "First Year Experience" program. Much like HEP, ECE's "First Year Experience" emphasizes the use of hands-on workshops and project-based learning to help freshman engineering students connect their textbook lessons with real-world applications. Trombetta believes his experience in pioneering project-based learning will serve him well in his new position as HEP's associate director.
"It's one thing to memorize how to build a circuit in class, but it's a completely different thing when you apply that knowledge by building a circuit in real life," Trombetta explained. "I think the hands-on aspect of the Honors Engineering Program is very important for undergraduate students to be able to connect-the-dots between classroom lessons and how to apply those lessons in the real world."
According to Joseph W. Tedesco, Elizabeth D. Rockwell Dean and Professor of the Cullen College of Engineering, both Claydon and Trombetta were chosen unanimously by a selection committee to take on the roles of director and associate director of the Honors Engineering Program.
"Both Fritz and Len are well-known within the college as active supporters of our ongoing STEM programs and activities, and are well-known to our students as fantastic teachers and champions for student success," Tedesco said. "I could not be more pleased to see them take on these roles within the Honors Engineering Program and look forward to seeing this program benefit and expand under their leadership."
William Monroe, O'Connor Abendshein Professor and Dean of the Honors College, was equally enthusiastic about the appointment of Claydon and Trombetta.
"When [Founding Dean] Ted Estess revamped the Honors Program in 1977, he built from the strength of the Cullen College of Engineering," Monroe said. "It is exciting to see that we are coming full circle, that Engineering has once again taken a leadership role in supporting honors education on this campus. Knowing Dean Tedesco and his commitment to excellence, we would expect nothing else."
Related News Stories
Posted on February 10, 2022
Posted on February 10, 2022
Posted on September 18, 2020