Posted on December 13, 2011
The Cullen College of Engineering's Department of Electrical and Computer Engineering has welcomed Jose Luis 'Pepe' Contreras-Vidal as its newest faculty member.
Contreras-Vidal, who joins the college as a full professor, was previously an associate professor with the University of Maryland. He earned his Ph.D. in Cognitive and Neural Systems from Boston University in 1994.
His research focuses on the development of non-invasive methods of interfacing the human brain with machines in order to help those who have suffered severe injuries such as limb amputation, spinal cord injury, or stroke. Individuals confined to a wheelchair could use a brain-machine interface to walk with a robotic exoskeleton, for example, while those who have lost a limb could control a multi-functional prosthetic device.
The University of Houston is an ideal location to develop such technology, Contreras-Vidal said. "This is a very complex project. It requires close collaboration of many people in the engineering core, clinical core and the companies that develop these robots. What is unique about the University of Houston is its partnership with the Texas Medical Center and the existing core faculty in engineering and other areas at UH that will make this research possible. In a way joining the Cullen College was an easy decision for me. The university leadership is really moving the university forward. They know what it takes to succeed, to bring new technologies that help people to the clinic. I believe this is the best place for carrying out this transformational work."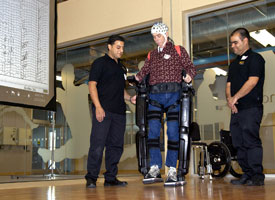 University of Houston Department of Health and Human Performance. Photo by Joy Wilson.
As an introduction to the Texas Medical Center community, Contreras-Vidal held a demonstration of an individual walking in an exoskeleton. The demonstration was held at the National Center for Human Performance, a multi-institution research center based in the TMC and hosted by the Center for Neuromotor and Biomechanics Research, part of the University of Houston's Department of Health and Human Performance.
During the event Contreras-Vidal explained his efforts to develop an interface to control the exoskeleton through sophisticated but non-invasive electroencephalogram (EEG) technology.
Under this system, a skullcap equipped with multiple electrodes will pick up the electrical activity generated in the user's brain. Sophisticated algorithms developed by Contreras-Vidal will translate these thoughts (or intentions) into instructions for the exoskeleton, which will then be wirelessly transmitted to the device.
According to Contreras-Vidal, developing this sort of technology can not only improve the patients' quality of life, but can also lower the cost of caring for these individuals by limiting the medical problems caused by remaining in a seated position for extended periods of time.
Contreras-Vidal has several partners in this research project. They include Rexbionics, the maker of the exoskeleton; Brain Products, which develops the advanced EEG technology; and researchers and clinicians with The Methodist Hospital Research Institute, who offer expertise on potential users of such a system. Together, they will embark on clinical studies to assess the efficacy and safety of brain-machine interfaces with robotic systems.
Department/Academic Programs: