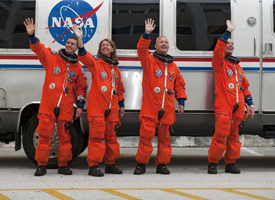 The Space Shuttle Atlantis successfully began the program's final mission today, and Cullen College of Engineering alumnus Rex Walheim was onboard.
Walheim earned his master's degree in industrial engineering from the college in 1989. He was selected as an astronaut in 1996 and went on his first space flight in 2002.
Following that initial mission, Walheim said his decision to enroll at UH was driven by a lifelong goal to be an astronaut. "I was working here [in Houston] as a lieutenant in the Air Force as a flight controller for the shuttle program when a friend of mine told me about this master's program that he was starting in industrial engineering. It seemed to me it would open some doors for me in the future, so I decided before I committed to it I'd try a class. I tried it, and I enjoyed the class, so I kept with it and decided to go through the whole program and get the degree," he said in a 2002 Parameters article.
As a mission specialist and one of only four crew members chosen for the STS-135 mission, Walheim will assist in the shuttle's task of delivering equipment and supplies to the International Space Station, as well as investigate a system for robotically refueling spacecraft.
In an interview on the NASA website, Walheim explained how honored he was to be named as a crewmember for the final space shuttle mission. "I wanted to somehow be a part of the last mission, whether I was helping in mission control, helping down at the Cape or helping at one of the abort sites, I just love the space shuttle program and I just want a chance to be a part of the last mission. And to find out I was assigned to it was really tremendously exciting because I just, like I say, I enjoy this program so much, I want to be there till the last wheel stop, and to think that I'll be riding on the vehicle till the last wheel stop is really an incredible opportunity and I'm very thankful for [it]," he said.