Posted on February 26, 2010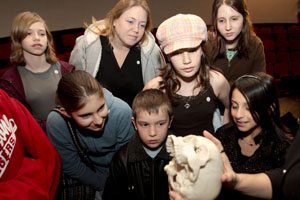 Bones can tell a lot about a person. They give clues to gender, height, age and even their health.
For a group of anthropologists, pathologists, museum curators, an internationally known forensic sculptor and one University of Houston engineering professor, bones helped share the story of the forgotten buffalo soldiers that once protected New Mexico's Fort Craig.
Part of an exhibit honoring black history month, the bones highlighted under the stage lights of Houston's Encore Theatre offered insight into the life of one soldier in particular—Thomas Smith.
Using a replica of Smith's skull as a guide, the first glimpses of the slender New Market, Ky. native were offered to guests this month courtesy of forensic sculptor Amanda Danning.
Last week, the creator of the replica skull—UH's Ali Kamrani—and Danning shared the science they used to bring this civil war era soldier to life as a group of schoolchildren and their teachers crowded around them. What they revealed was a complex process demanding close study of CT scans, Fort Craig artifacts, military records and bones.
Recruited as part of a volunteer effort centered on preserving and sharing the history of Fort Craig buffalo soldiers, Danning and Kamrani partnered with individuals from the Houston-based Buffalo Soldiers National Museum, the Smithsonian Institution's National Museum of Natural History and the U.S. Bureau of Reclamation. Their goal was to be sure these soldiers—best known by the world as the subject of media reports describing looting and grave robberies that disturbed their resting place some months earlier—would be remembered in another way.
Together, what they shared with the world through the Buffalo Soldiers National Museum exhibit is the first facial reconstruction believed to have taken place on a buffalo soldier.
"It was very interesting to finally see the face of Thomas Smith be revealed," said Kamrani, an associate professor of industrial engineering at the Cullen College, who through rapid prototyping constructed replicas of three Fort Craig buffalo soldier skulls for the project. Using one of these replicas, Danning became an interactive piece of the exhibit as she performed Smith's facial reconstruction daily for guests throughout February. She is on tap to do the same with the two other soldiers for visitors to the Smithsonian and the New Mexico History Museum over the course of the next few months.
"This just goes to show you the value of technology now and how it can help share a piece of history," Kamrani added. "It's been quite an experience—one I've been truly happy to be a part of."
Smith's skeleton was exhumed along with others buried at Fort Craig after authorities found his skull, which had been kept for years in a home as a trophy. It's discovery shed light on a widespread looting problem at the remote Fort Craig cemetery forcing the Bureau of Reclamation—charged with managing the space—to arrange for all buried there to be moved to Santa Fe National Cemetery.
Prior to their burial, the remains of more than 30 of these individuals were studied and attempts were made to identify them.
Smith was among those they were able to name. Military records indicated he was part of the Army's 125th Infantry Company A. Before complications from typhoid fever led to his death in 1866, the man of no more than 20 years old was tasked with protecting settlers from American Indian raids. It's where he and other African American Army units of the time earned the nickname buffalo soldiers.
Though his face was still a work in progress Wednesday, the clay Danning used to mimic muscle and tissue had begun to strongly define his brow line, lips and nose. It was just enough to thoroughly captivate the attention of young and old with The Friends School, a loose knit organization of private schools.
Crowded around Kamrani and Danning, mouths hung open as other interrupted to ask their questions about the bones that played such an important part in solving this mystery of identity.
"Dr. Kamrani's creation, here, has given us a lot of detail," Danning explained as she turned the skull over to point out a cluster of tiny bones in its middle.
Kamrani toiled months, he admitted to the crowd, cleaning up CT scans from the Smithsonian, which were taken of Smith's skull. In computer aided design software he removed what he called "noise shells," which encompassed everything from bone fragments to dust, dirt and even old tissue. All were taken out in the program to make one cohesive three-dimensional drawing that would serve as the map he used to construct the solid model—layer-by-layer—with his rapid prototyping machine.
"We used a number of different layers to build the skull—close to 1,400 actually," he offered. "We added some super, super glue to bind each one together to make what you see here."
The up close look at history and the science that helped bring it to light, at least for those with The Friends School, was without question memorable.
"I really liked that we could ask them questions and see how they did it," said Heather Smith, 12, who along with her 11 other classmates, had a strong interest in forensics, anthropology and science. "It really opened my eyes to new careers you would never think of."
The exhibit, which due to space issues was held at the Encore Theatre, is expected to help pay for renovations to new space in the Houston Light Guard Armory the Buffalo Soldiers National Museum plans to occupy.
The three finished skulls; and artifacts from much of the rest of the exhibit, are expected be a permanent feature in the museum's new location late this year.