When the Space Shuttle Atlantis launches this Friday on a mission to the International Space Station, the list of Cullen College of Engineering alums who have been to space will grow by one name.
Mission Specialist John "Danny" Olivas earned his masters degree in mechanical engineering from the college in 1993 before completing his Ph.D. at Rice. He will be making his first space flight on mission STS-117, making him at least the sixth Cullen College alum to travel to space as a United States astronaut.
During the 11-day mission, Olivas will assist in installing two truss segments on to the station as part of its solar-power system. This task will include attaching solar arrays to the truss, generating more power for the space station. As part of these duties, Olivas will participate in two of the mission's three space walks.
According to Olivas, the additional electricity will be used to power expansions to the space station. "We're entering a phase at the International Space Station where we're getting ready to add modules, and the power requirements are necessary to be able to provide sufficient power for cooling capability and environmental control [for those modules]," he said in an interview posted on the NASA web site.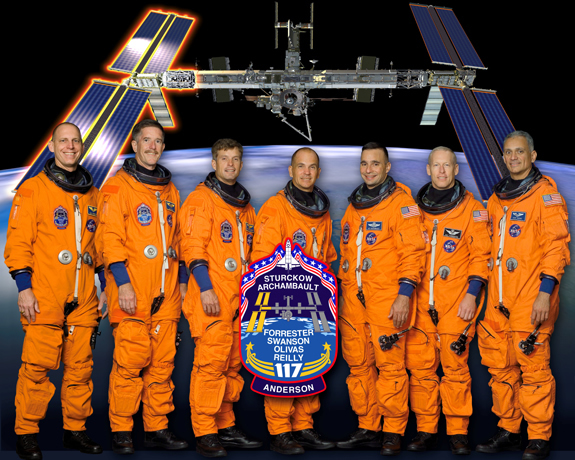 The crew of STS-177 Atlantis: Expedition 15/16 Flight Engineer Clayton C. Anderson, mission specialists James Reilly II, Steven Swanson, Commander Frederick Sturckow, Pilot Lee Archambault and mission specialists Patrick Forrester and John D. Olivas (1993 MSME). Photo courtesy of NASA.
Department/Academic Programs: