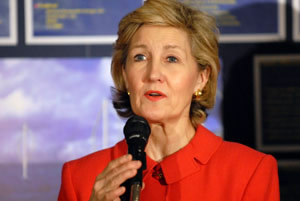 Senator Kay Bailey Hutchison toured wind-related research labs at the University of Houston Cullen College of Engineering before holding a press conference Tuesday to announce new renewable energy legislation and to commend a UH-led effort to bring the Department of Energy's Large Wind Turbine Testing Facility to Texas.
Last week, Sen. Hutchison introduced a new piece of legislation called the Creating Renewable Energy through Science and Technology (CREST) Act, which provides funding for renewable energy research and development—specifically in the areas of offshore wind, solar power, geothermal, biofuels and wave energy—through the Council on Renewable Energies (CORE).
"We [need to] look for ways that we can have more energy and be creative at the same time and what better way to find those new sources of energy than to go to our great universities, to creative minds that are looking at our problems," said Sen. Hutchison during the press conference.
The UH System Board of Regents, along with UH President Jay Gogue, were in attendance to welcome the Senator to campus. John Hofmeister, president of Shell Oil Company; Graeme Sweeney, CEO of Shell Renewables; and Jeff Moseley, president and CEO of the Greater Houston Partnership, attended the event in support of the Senator's bill and the university's effort to bring the facility to the Texas Coast.
Texas is currently the nation's leader of onshore wind energy production, as reported by the American Wind Energy Association, surpassing California over six months ago. The proposed facility will be capable of testing both on- and offshore wind turbines, though the initial focus of the research will be for large offshore wind blades, measuring upwards of 70-100 meters long.
Dean Raymond Flumerfelt and Distinguished University Professor of Mechanical Engineering Su Su Wang will be submitting a final proposal in May to the DOE on behalf of the Lone Star Wind Alliance, one of two finalists for the research facility. An announcement in mid-March narrowed the competition between the Texas consortium and a group in Massachusetts. The final decision is expected this summer.
The Lone Star Wind Alliance includes the University of Houston Cullen College of Engineering, The University of Texas at Austin, Texas A&M University, Texas Tech University, West Texas A&M University, the Houston Advanced Research Center, Stanford University, Montana State University, New Mexico State University, Old Dominion University, the Texas General Land Office, the State Energy Conservation Office, the Texas Workforce Commission, Gov. Rick Perry and Good Company Associates.
Department/Academic Programs: