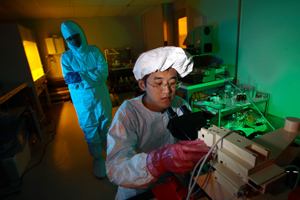 Several members of the Cullen College of Engineering were honored at the annual research day of the University of Houston chapter of Sigma Xi, the scientific research society and global honor society of scientists and engineers.
Ajish Potty, a Ph.D. student in chemical engineering who is working with professor Richard Willson, was recognized in the Graduate Student Poster competition. His poster outlined his work on aptamers— DNA or RNA molecules that can be used to inhibit the progress of an illness by binding with a target molecule. This binding prevents disease-causing molecules from interacting with healthy cells, thereby slowing or even halting the progress of an illness.
In particular, Potty is attempting to synthesize an aptamer to interrupt the growth of blood vessels that feed cancerous tumors. "Cancer needs blood vessels," he said. "What this molecule does is block the growth factor so that blood vessels don't grow and there's not a proliferation of tumor cells."
Qingkai Yu, a Ph.D. student in electrical engineering, won an honorable mention award in the Graduate Student Poster competition for his presentation on growing horizontally aligned single-walled carbon nanotubes. These nanotubes are the subject of much recent attention, with researchers expecting them to be a key component of nanoelectronics.
One of the challenges in utilizing single-walled carbon nanotubes, however, is that they spread out in all directions and overlap when grown on a substrate. These overlaps can cause the nanotubes to short each other out when exposed to an electrical charge. Yu, who is working under electrical engineering professor Steven Pei, addresses this problem by growing the nanotubes on a sapphire substrate. The carbon atoms in the nanotubes are naturally attracted to the aluminum atoms in the sapphire, which are organized predominantly in parallel rows. This results in the carbon nanotubes growing along these parallel lines, which eliminates the overlap that causes electrical shorts.
According to Yu, efforts are currently underway to fabricate nanosensors using these horizontally aligned nanotubes.
Chris Shooner, a junior biomedical engineering major, was recognized in the Undergraduate Student Poster Awards. Shooner is conducting research under Adrian Glasser, a professor in the College of Optometry, as well as Matthew Franchek, professor and chair of the Department of Mechanical Engineering.
The team is applying electrical current to the section of the brains of rhesus monkeys that controls focus. They then use ultrasonic waves to measure changes in thickness of the lens of the monkey's eyes. By comparing electrical input and output, Shooner said, the experiments should yield a mathematical model that can be used to explain and predict how the eye focuses on objects.
Arol Vicent, a sophomore chemical engineering major, received an award in the Undergraduate Poster competition for his presentation on a project being led by Dan Luss, Cullen Professor of Engineering, and Karen Martirosyan, research assistant professor, both with the Department of Chemical Engineering.
Vicent's entry detailed a method of turning a lunar soil simulant into ceramic bricks by combining addition materials with the soil and then igniting the mixture. The technology could be used to build outposts on the moon for far less money than outposts built entirely of material sent to the moon by spacecraft.
Department/Academic Programs: