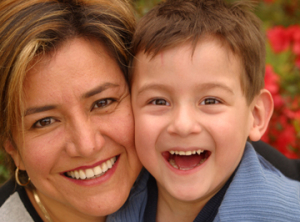 When Yamile Cendales Jackson (2000 PhD IE) gave birth to her son Zachary, he was 12 weeks premature and weighed only one pound, 15 ounces. Now Zachary is a thriving four year old, and Jackson used her experience to develop a hand mimetic device, the Zaky, which is named after her son, to help premature babies and their mothers feel closer to each other.
The Zaky, marketed through her company Zakeez, is an ergonomic pillow for premature and full term babies that simulates the look, feel, touch and scent of their mother's arm and hand. Jackson said she created the Zaky because she wanted to offer her son company, comfort, and support while she was away from the hospital.
"When Zachary was hospitalized for five months it was devastating for us to see him suffer without being able to do anything. Sometimes he was so sick that we were not allowed to even touch him. We witnessed babies that were sick and not so sick, babies that died, and even babies that were never held or visited by their relatives. At the Neonatal Intensive Care Unit (NICU), I would notice items that were donated to the hospital 'in memory of' babies, and it saddened me that there were not many 'on behalf of' gifts. Did babies have to die for adults to help?," Jackson said. "So I prayed to God to make a pact with me: 'if you let us take Zachary home, I'll help babies.' The Zaky is the way I found to help mothers, nurses, and most importantly, babies. I am so grateful that I am doing it on behalf of Zachary."

Though the Zaky is not a medical device, Jackson said the idea for the innovative tool did originate with significant input from nurses, doctors, and mothers in the NICU at the Memorial Hermann Children's Hospital where the Zaky has been used successfully since 2001.
"There were times when the nurse would place a little beanie baby on top of my son's back," Jackson said. "Karen Martin, now the developmental coordinator of the NICU, explained to me that when the babies are in the womb they stretch, kick, and move, and the womb brings them back to the fetal position. That's why, when they are born full term, the mother is taught how to swaddle the baby using towels or blankets. When babies are born prematurely, they can't be swaddled because they have tubes, IV needles, and monitors, so when they stretch as they did in the womb, they are not able to return to that fetal position and it results in stress.
"The nurses taught me how to reposition him and to place my hand on top to give him boundaries and allow him to feel close to me. It couldn't be patting or rubbing because these provide too much stimulation. This method of comforting by touching him with my hands and to give him boundaries when I could not hold him on my chest was very effective; however, I was not allowed to stay every night, and the nurses were caring for other babies simultaneously. I had to find a way to help my son and that could help me with my feelings of separation when I could not be there."
Jackson said she noticed that in the mother's absence, nurses improvised with rolled up t-shirts or towels or even a beanie baby.
"Being an industrial engineer and having a passion for product design and project management helped me understand and respond to the needs of babies to feel accompanied, secure, and well positioned, the need of mothers to bond with their babies, and the need of nurses to comfort and care for multiple babies simultaneously," Jackson said. "With immense help from nurses, doctors, and mothers, the Zaky was born."
Currently, Jackson runs Zakeez from home to maximize her time with Zachary. The Zaky can be found in baby stores, childcare facilities, and hospitals in the United States, Canada and Europe, and Jackson and Zachary handle their web sales personally.
"I try to involve (Zachary) as much as possible," Jackson said. "Often when we get an online order he goes and gets the Zaky. We package it together and he puts it in the mail. He understands that The Zaky is going to help a mother and her baby that want to feel closer to each other."
For the work she is doing with babies, Texans Can, a non profit organization that works with young mothers, presented Jackson with their "Motherhood Lifetime Achievement Award" at their annual banquet on May 4.
In addition to spending time with Zachary, Jackson also maintains her first company, Ringstones Consulting International, Inc., an engineering project management and cross-cultural communication company that offers services in English and Spanish.
"I knew I wanted to be an industrial engineer since I was 14. My father was an engineer, my mother has a Ph.D. in History, and she taught me that I could be anything I wanted to be if I worked hard enough," Jackson said. "I really liked science, but I also liked interacting and helping people in a human level, so industrial engineering was the perfect fit for me."
Because there were no Ph.D. programs in engineering in Bogotá, Colombia, Jackson came to the United States with her uncle's help and continued her education at the University of Houston. Studying engineering, which is a highly versatile field, has allowed Jackson the professional mobility to engage in a number of projects.
"Being an industrial engineer has being instrumental in my ability to go from working in Fluor Corporation and Kvaerner in the construction field for almost 10 years, to opening my own international project management firm, to helping mothers and babies in what could very well be the most traumatic experience of their lives," Jackson said.
Between her responsibilities as a mother and a business owner, Jackson has not halted her work in the field. Since 2003 she has served as an adjunct professor at the University of Applied Sciences of Vorarlberg in Austria, which takes her, (and sometimes her son and husband Larry) out of the country for three weeks each winter and summer.
Jackson has also participated in a research study about Risk Assessment for International Capital Projects with the Construction Industry Institute (CII) and presented this research at the CII's Annual Conference in Orlando, FL and Austin, TX, as well as the Research Conference of the Project Management Institute in London and the Annual Congress of the Institute of Industrial Engineering in Houston. She is also on the Board of Directors for the Project Management Institute ®, and she has returned to UH as a visiting professor in the engineering master's program and the Bauer College of Business.
Jackson has earned a BSIE, M.S. in Engineering Management and Ph.D. with concentration in Human Factors and Ergonomics from UH and a MSIE from Clemson University. Jackson's family experience and the Zaky have been featured in the health sections of the news programs in ABC, NBC, Univision, CBN, and Fox as well as in various magazines such as Readers Digest® (April, 2002), the Institute of Industrial Engineer's Magazine (IE, Jul 2004), Physician's Practice Magazine (Nov-Dec 2004), a CBS Special Report titled "Healing from the Storm" (June 2002), and the made-for-TV movie "14 Hours" aired on TNT (April, 2005).
With of all her accomplishments and accolades, Jackson said her son and the work she does with babies are her greatest achievements.
"The birth of Zachary definitely changed my life, both personally and professionally. I made a commitment to use my soul, experience, and education to help improve the quality of life of premature babies," Jackson said. I want to do more research and product development to improve the lives of more babies, their mothers, and their caregivers. I don't want Zachary's suffering to be in vain. I want him to know that he has helped thousands of babies, that we are very blessed for having him, and that I am very grateful that he came home with us."
Department/Academic Programs: