Charles Dalton
Enron Teaching Excellence Award
It was 1960 when Charles Dalton, professor of mechanical engineering, stood in front of a classroom to teach for the first time. Forty-three years later, Dalton continues to inspire and guide students through his rigorous curriculum.
Credited by students and faculty alike with possessing a pure, motivating teaching style. Dalton presents difficult concepts of fluid mechanics in ways, which are interesting and involving. He reinforces his lectures with meaningful examples and illustrations.
The veteran educator has high standards and high expectations for his students. He is one who strives for excellence and does not abandon his students at the classroom door; he also makes himself available outside the classroom.
"I truly enjoy the constant effort to try to generate student interest and enthusiasm," Dalton said. "Class participation is sometimes not easy to accomplish in engineering courses, but it is essential in developing and maintaining an interesting course. My favorite teachers from my student days were those who got the class involved by their enthusiasm for the subject. I try to accomplish the same thing. Hopefully, it works more often than not."
Dalton can rest assured his teaching style works.
---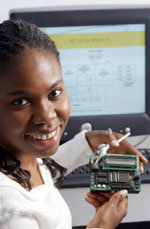 Chidiogo Madubike
Graduate Teaching Assistant Award
Practice makes perfect.
That's an adage that University of Houston outstanding Graduate Teaching Assistant Award recipient Chidiogo Madubike takes to heart with her students. Although she is currently working on her Ph.D. thesis in the Department of Electrical and Computer Engineering, Madubike serves as a lab assistant and an instructor.
"I believe that as an instructor, I should teach them what they should know and use real-life examples to keep students interested," wrote Madubike in her teaching philosophy. "I give a lot of homework to enable them to practice on their own, and I test them often, so I get to know their weak areas and help them, if necessary."
Such beliefs have translated into her classes.
"Students seek out her sections because word passed on that if you take her class, you will learn the material and be well prepared for the next courses in the sequence," said Fritz Claydon, professor and chair of the department.
Department/Academic Programs: