Posted on September 21, 2001
Devotion to students and excellent teaching evaluations are some of the reasons Keith Hollingsworth, associate professor of mechanical engineering at the UH Cullen College of Engineering, is receiving the El Paso Energy Teaching Excellence Award in Engineering.
El Paso Energy has gifted the university with $9,000 to award faculty members in the fields of accounting, engineering and information technology. Selected recipients are dedicated full-time educators with exceptional devotion to the quality of their instruction, high academic standards and a remarkable dedication to their students. Each of the three instructors will receive a $3,000 stipend. Along with Hollingsworth, the awards went to Tom Noland, associate professor in the Department of Accountancy and Taxation and Cheryl Willis, information technology associate professor.
Hollingsworth, a researcher in the field of experimental thermal science, has taught at UH for more than 12 years. He enjoys being a professor at a research university and believes teaching in the classroom is an indispensable part of being a professor and he takes the responsibility of providing quality teaching very seriously.
"I am honored and surprised," said Hollingsworth. "I want to thank El Paso Energy for supporting the university with teaching awards." He says he is familiar with the award-winning teaching records of his colleagues and appreciates being placed in such a group and selected as the representative for this year.
Hollingsworth's classes are difficult and his grading standards are high, yet he maintains a level of popularity with both students and faculty, according to Lewis Wheeler, department chair for mechanical engineering.
"I want my classes to be a positive and instructive gateway to the subject; but a gateway designed to admit only those who can learn and do learn," said Hollingsworth.
Wheeler says comments from students reveal that Hollingsworth's lectures are greatly appreciated for their excellent organization and delivery. In addition, he is uncommonly patient and collegial with students, and they always feel comfortable in approaching him for advice.
Hollingsworth's work as a professor extends beyond his teaching responsibilities and research programs. He has been involved with the Honors College and is an Honors student advisor, although his official departmental duty is to advise graduate students and manage the graduate program in mechanical engineering. This latter duty is another one in which he shows a genuine touch for helping new and continuing students find their way according to Wheeler.
"Clearly, Dr. Hollingsworth is devoted to his profession, and the Cullen College of Engineering is gratified to have him as a faculty member," said Raymond W. Flumerfelt, dean of the Cullen College of Engineering.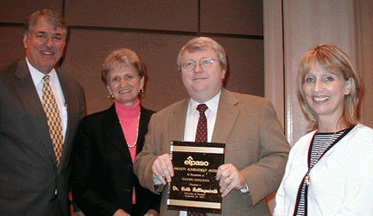 Department/Academic Programs: