Posted on September 24, 2001
Under the direction of University of Houston chemical engineering professor Kishore Mohanty, the special challenges confronting oil producers working in the Arctic will be the focus of a new research project funded through the U.S. Department of Energy's National Energy Technology Laboratory.
UH Cullen College of Engineering will receive nearly $600,000 in federal funding for a three-year effort to develop a reservoir simulator that would show how injecting different mixtures of hydrocarbon and other gases can boost oil recovery and possibly lead to the sequestration of carbon dioxide, a greenhouse gas. The university will add $150,000 to the research project.
UH chemical engineering researchers are especially interested in a process called "water-alternate-gas" injection that operators could use in the future to produce heavy oil from the North Slope's shallow sand reservoirs. With today's state-of-the-art simulators, researchers can model how a single gas – methane, for example – behaves as it moves through a reservoir. When the gas composition varies, however, the modeling and simulation process becomes significantly more complex.
The UH model could make it possible for future North Slope operators to predict how injecting methane, carbon dioxide, flue gases, or combinations of these gases, along with water, can enhance the production of North Slope heavy oil. In the case of carbon dioxide, the model could also reveal important information on how the greenhouse gas might be captured and remain in the reservoir, which could lead to a viable way of disposing of several megatons of the greenhouse gas at the North Slope.
Development of Shallow Viscous Oil Reserves in North Slope
The goal of this research is to develop tools to find optimum solvent, injection schedule and well-architecture for a WAG process in North Slope shallow sand viscous oil reservoirs. A simulator will be developed to model WAG displacements including the transport of three-hydrocarbon phases associated with low temperature reservoirs and the reservoir heterogeneity. The relative permeabilities of the three hydorcarbon phases will be estimated. The efficiency of WAG processes will be tested by scaled, multidimensional, physical models. Innovative, but cost-effective completion techniques will be evaluated for production wells to minimize the bottleneck to high oil productivity.
The North Slope of Alaska has huge oil deposits in heavy oil reservoirs such as Ugnu, West Sak, and Shraeder Bluff. These reservoirs overlie existing productive reservoirs such as Kuparak and Milne Point. The viscosity of the West Sak and Shraeder Bluff oils vary from ~30 cp to ~3000 cp and the amount is approximately 16 billion barrels. High oil viscosity and low formation strength impose problems to high recovery and well productivity. These challenging reservoirs are the largest undeveloped accumulations in North America. The goal of this research is to develop new technology to increase the well productivity as well as the reservoir recovery efficiency. WAG processes and modern well architectures can be effective in recovery of the low viscosity (<100cp) of these deposits in West Sak and Shraeder Bluff.
This project will result in an efficient compositional simulator that can handle three hydrocarbon phases. Such simulators will benefit the upstream oil industry far beyond the North Slope. A laboratory technique will be developed to evaluate miscible WAG flood sweep efficiencies. The research on well architecture would benefit productivity for other marginal fields. These developments would also lead to sequestration of a significant amount of greenhouse gases.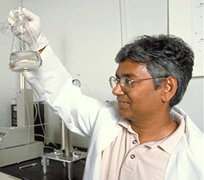 Department/Academic Programs: