UH hosts 11th annual Texas Soft Matter Meeting
The Cullen College of Engineering, led by assistant professors Tian "Tim" Chen and Gül Zerze, hosted the busy and successful 11th annual Texas Soft Matter Meeting last week in the Student Center South.
The event featured four keynote speakers, a panel discussion about balancing career interests, research and work, and five "rapid talk" sessions on vital subjects in the field. The planning was an interdisciplinary effort, as Chen is a member of the Mechanical Engineering Department, while Zerze is in the William A. Brookshire Chemical and Biomolecular Engineering Department.
The group's first meeting in 2013 also occurred at UH. It was organized by Jaci Conrad and Megan Robertson, both of whom are professors in the Chemical and Biomolecular Engineering Department. The event has gradually grown in size, scope and prominence.
"This time around, we had more than 120 attendees and 65 rapid talks," Chen said. "We also invited four keynote speakers – two from academia and two from industry. In addition, the event was generously sponsored by both the Mechanical Engineering, and Chemical and Biomolecular Engineering departments, as well as a number of industry partners."
Event sponsors Thermofisher and Anton Paar setup displays for the event, to demonstrate equipment and to network with students about potential jobs and internships. The rapid talks give junior researchers – Ph.D. students, postdocs and younger faculty members – exposure to what each was respectively researching, and what industry is focusing on.
The keynote speakers included:
Amanda Marciel, assistant professor of Chemical and Biomolecular Engineering and the William Marsh Rice Trustee Chair at Rice University. Her lab uses precision synthesis techniques to investigate the influence of polymer sequence and architecture on solution and bulk soft matter properties using single molecule techniques, light scattering and rheology.
Alexander Marras, assistant professor in the Walker Department of Mechanical Engineering at the University of Texas at Austin's Cockrell School of Enginering. The Marras research group specializes in biomolecular self-assembly, using tunable soft materials for nanoscale engineering. Current focuses are understanding structural design rules for nanoparticles for nucleic acid delivery, developing DNA-based sensors and actuators, and creating smart biohybrid materials.
David Germack, research and development technical manager in analytical services at the Kraton Corporation. Kraton develops, manufactures and markets specialty polymer and biobased chemicals that deliver value with innovative and sustainable solutions that differentiate customer's products and enhance lives worldwide through a diverse range of end-use markets. The company's yearly revenue is close to $2 billion.
Roxanne Jenkins, technical service and development scientist in infrastructure at Dow. Her recent work has been on enabling more sustainable pavements using recycle plastic and Reactive Elastomeric Terpolymers (RET). Dow is a materials science leader committed to delivering innovative and sustainable solutions for customers in packaging, infrastructure and consumer care, with yearly revenue near $50 billion.
The event culminated with a happy hour at the Nook, featuring more informal chatting with all of the meeting participants. Next year's meeting will be at UT-San Antonio, with the 2025 meeting scheuled for Rice. For more information, visit the Texas Soft Matter Meeting website.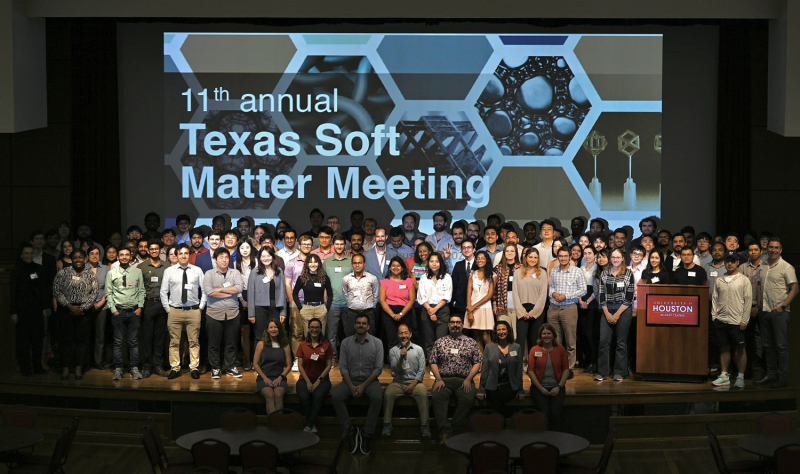 A photo of this year's participants in the Texas Soft Matter meeting.
Related News Stories
Posted on September 13, 2023
Posted on September 11, 2023
Posted on September 8, 2023