UH graduate's work identifies new clues behind vision loss due to impaired metabolism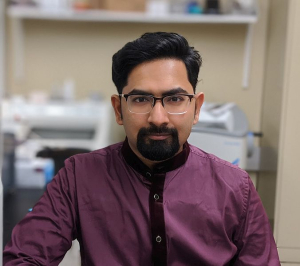 A graduate of the biomedical engineering doctorate program at the University of Houston's Cullen College of Engineering has published new research about how vitamin and protein deficiencies can lead to metabolic abnormalities in the eye.
Dr. Tirthankar Sinha, now a postdoctoral research fellow in Dr. Claudio Soto's Lab at the McGovern Medical School at the University of Texas Health Science Center at Houston, is the lead author for the paper. "Absence of retbindin blocks glycolytic flux, disrupts metabolic homeostasis and leads to photoreceptor degeneration" was published by PNAS in early February.
Sinha described the research work he did as focused on the eye and the retina, and the proteins they required.
"Our lab recently discovered a novel protein called Retbindin, which is exclusively made by photoreceptors," he said. "It binds to flavins like vitamin B2 and its derivatives, essential components for synthesizing energy in any living cell. My Ph.D. work at UH focused on deciphering the role this protein and flavins play in maintaining a healthy retina, using different 'omics' techniques."
Sinha said that for the paper, they studied the effect the denial of the protein had on retina metabolism.
"In this specific research paper, we forced the retina to stop making any Retbindin by genome editing, and then using a combination of state-of-the-art 'metabolomics' techniques and associated data analysis, we found that this starved the photoreceptors of flavins, created a toxic environment, and gradually crippled the metabolism of the entire retina," he said. "This compromised the function of the photoreceptors, and eventually, they started dying. This highlights how critical both vitamin B2 and Retbindin are for our vision and that these can serve as potential indicators of early stages of retinal neurodegeneration."
Sinha was mentored on the work by Dr. Muna Naash and Dr. Muayyad R. Al-Ubaidi, professors in the Biomedical Engineering Department at the Cullen College of Engineering. Collaborators from outside the university included Dr. James Hurley, a professor at the University of Washington in Seattle, and Dr. Jianhai Du, an assistant professor at West Virginia University.
Sinha said the environment at the university and its location were primary factors when he was considering where to earn his doctorate degree. Since earning his degree, he has moved on to a research opportunity he finds fulfilling.
"The diverse research environment at the BME program attracted me to UH, along with its proximity to the Texas Medical Center," he said. "At my first postdoc, I am working on diseases that affect the brain, in Dr. Claudio Soto's Lab. I am leveraging my Ph.D. training on how to decode what happens at the earliest stages of neurodegeneration using sensitive muti-omics approaches, by trying to identify the earliest cues associated with brain cell death in Alzheimer's disease, obesity, and aging."
Related News Stories
Posted on September 3, 2021
Posted on September 3, 2021