Posted on November 27, 2019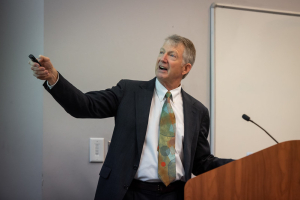 UH Engineering hosted another installment of the Rockwell Distinguished Lecture Series on Friday, November 8, featuring James Skinner.
Skinner visited from the Pritzker School of Molecular Engineering at the University of Chicago, where he is the Crown Family Professor of Molecular Engineering, Director of the Water Research Initiative and Deputy Dean for Faculty Affairs.
Skinner's talk, "Anomalies in Ambient and Supercooled Water: Is There a Second Critical Point Lurking Nearby" focused on the microscopic and thermodynamic origins of anomalies with a density maximum at 4 C and the compressibility minimum at 46 C., and how these anomalies present experimental, simulation and theoretical evidence for the presence of a liquid- liquid critical point in deeply supercooled water.
Skinner's recent work focuses on the conceptual studies of the structure, dynamics, and vibrational spectroscopy of water, in its condensed phases and at interfaces.
The Rockwell Distinguished Lecture Series is named for Elizabeth Dennis Rockwell, a UH alumnae, industry expert and philanthropist who passed away in 2011.
Click here to view the lecturer schedule for the 2020 Rockwell Lecture Series.
Click here to view photos from Skinner's Rockwell Lecture!
Department/Academic Programs: