Posted on September 27, 2019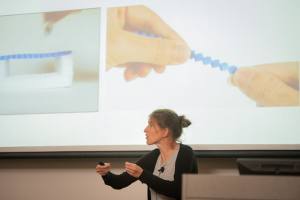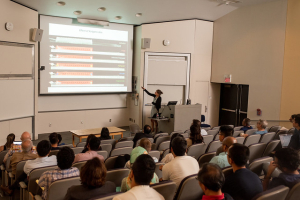 The UH Cullen College of Engineering kicked off its 2019-2020 Distinguished Rockwell Lecture Series on Thursday, September 12 to a packed house. Faculty and students and visitors came to hear the lecture titled "Kirigami-Inspired Metamaterials — from Morphable Structures to Soft Robots" featuring Katia Bertoldi, the William and Ami Kuan Danoff Professor of Applied Mechanics of Harvard University.
Bertoldi's lecture focused on the advances aimed at the construction of mechanical systems and talked about how through careful design of a material's architecture, new material properties are evident.
Bertoldi shared how her research investigates both mechanical and acoustic properties of structured materials with a particular focus on harnessing instabilities and strong geometric non-linearities to generate new modes of functionality.
The Rockwell Lecture Series, which is named for Elizabeth D. Rockwell in honor of her gift to establish an endowed chair for the dean of engineering, is held annually at the Cullen College. Distinguished guests each year are invited to the Cullen College to deliver lectures covering a variety of topics.
Click here to view the lecturer schedule for the 2019-2020 Rockwell Lecture Series.
Click here to view photos from Bertoldi's Rockwell Lecture!