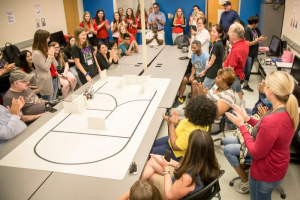 Summer is the time to sit back and relax but for girls attending UH Engineering's G.R.A.D.E. Camp, summer meant learning new STEM skills and considering careers in engineering.
The G.R.A.D.E. Camp (Girls Reaching and Demonstrating Excellence) program is a one-week (offered twice in the summer) STEM camp welcoming 8th-12th grade girls to the fascinating world of science, technology and engineering.
Campers have the opportunity to learn basic engineering concepts using motors, generators and robotics through hands-on problem-solving exercises.
In addition to hands-on experiences, campers attended an information session with female industry leaders. The speakers shared their experience in working in engineering and what it's like to be woman in the field.
On the last day, family and friends were invited to check out the final presentations of their LEGO robots which were programmed to navigate their way through a variety of mazes.
Check out G.R.A.D.E. Camp in action with our latest video!
To view photos from this year's G.R.A.D.E. Camp, click here
To learn more about G.R.A.D.E. Camp, click here