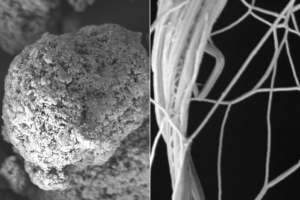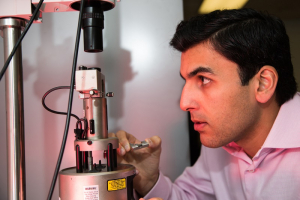 New polymer films conduct heat like metals
Polymers, also known as plastics, can be found in almost every kind of modern technological products – from soft robotics and organic electronics to 3D printing and artificial skin. The unique characteristics of polymers, which are cost-effective, lightweight and corrosion-resistant, make them ideal components in general.
However, more expensive materials continue to be used in manufacturing. For example, cases for cellular phones and computers are made of metal rather than inexpensive materials with lower thermal conductivity because the metal is necessary to dissipate generated internal heat.
"In these devices, heat dissipation by materials play a critical role and is a bottleneck for boosting computation and performance capacity of these systems," said Hadi Ghasemi, Bill D. Cook Assistant Professor of mechanical engineering at the UH Cullen College of Engineering. "Low thermal conductivity of polymers impede their use in these applications."
Most polymers conduct heat at around 0.1 to 0.5 watts per meter per kelvin.
New game-changing polymers
Ghasemi and his research collaborators have developed a new generation of polymers – aligned thin polyethylene films that have thermal conductivity of 62 watts per meter kelvin.  In comparison, iron has a thermal conductivity of 50 and stainless steel has thermal conductivity of 15. This development means that at some point polymers could be viable alternatives to traditional metal heat conductors.
"These new materials provide a great opportunity to develop flexible and high performance electronic and photonics devices. For example, all the new flexible cellphones are in great need of these materials," Ghasemi said. "Heat exchangers in petrochemical facilities and desalination systems could also benefit from these next-generation materials."
The collaborators recently published their research in an article, titled "Nanostructured polymer films with metal-like thermal conductivity," in the journal Nature Communications.
In addition to Ghasemi, contributing authors on the paper are: Yanfei Xu (lead author), Daniel Kramer, Bai Song, Jiawei Zhou, James Loomis, Jianjian Wang, Mingda Li, Xiopeng Huang, Xiaobo Li and Gang Chen – all with the Massachusetts Institute of Technology (MIT), as well as Zhang Jiang with the Argonne National Laboratory.
The researchers will continue working to improve polymer heat conduction and the fabrication process.
To read the article, please visit: https://www.nature.com/articles/s41467-019-09697-7
Department/Academic Programs: