Posted on October 18, 2010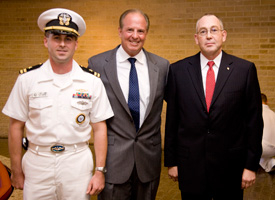 A University of Houston Cullen College of Engineering professor last week was commissioned in the Naval active reserve as a Campus Liaison Officer (CLO).
Lawrence Schulze, associate professor of industrial engineering, became the first CLO for the university since 2001, a post held by John Matthews, a manager for the Cullen College's PROMES program.
"We are extremely honored to have one of our faculty serve as Campus Liaison Officer for the region," said Joseph W. Tedesco, Elizabeth D. Rockwell Endowed Chair and dean. "Lawrence is very dedicated to this post and to the Camo to Classroom to Career Program recently launched at the college."
The Camo to Classroom to Career Program was created as a means of bridging active, reserve and veteran military service to engineering careers through education. In addition to providing additional career avenues to UH engineering students, the program also works to bring more engineers into the Navy Nuclear Propulsion community.
"This opportunity is very close to my heart," said Schulze, who never had the chance to serve the country due to injuries from his youth. "My grandfather, father and two uncles fought for our country, and I always wanted serve in our military in some capacity. This responsibility is one I take very seriously."
Schulze will be working with Commander Steven Friloux in the Navy Recruiting District office to fulfill the responsibilities of his assignment. In addition to UH, he will serve as campus liaison for Prairie View A&M, Rice, Texas A&M and Texas Southern University.
Click here for more information on the Camo to Classroom to Career Program.