Posted on October 10, 2008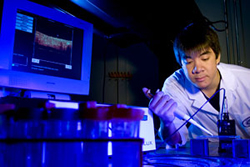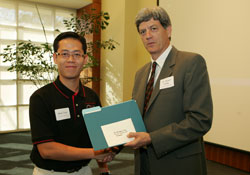 Michael Leba spent this past summer engrossed in the beginnings of a research project that may one-day aid diabetics.
Only last month did the senior biomedical engineering major finish the 10-week stint in the University of Houston's Biomedical Optics Laboratory where he devoted hours to determining whether there is a direct correlation between cornea thickness and changes in glucose concentrations.
On Oct. 2, Leba and 62 other students at the university were given a chance to showcase all their hard work during the fourth annual Undergraduate Research Day.
Similar to Leba, the majority of the undergraduate students were products of the university's recent Summer Undergraduate Research Fellowship (SURF) Program. Of the 42 students involved in SURF, Leba and four others were from the Cullen College of Engineering.
Remaining undergraduate research day participants, five of whom were engineering students, conducted substantial research projects within the last year under the guidance of a faculty member.
All 10 Cullen College students involved offered up details pertaining to research projects that included everything from developing tools for the treatment of cancer to the effects of cardiac stent placement.
One of these students, Minh Tran, was given a poster award at the event for his research. Tran, an electrical engineering major, worked alongside David Jackson, electrical and computer engineering professor, to explore low-profile vehicle mounted antennas. The research explored the use of a type of antenna called a leaky-wave antenna as a means of providing less bulkier antennas for high-frequency communications, for future application on commercial and military vehicles.
Similar to the great majority presenting at the event, the period Tran and Leba spent researching was too short to produce definite conclusions or results. However, for Leba and some others, the work done through SURF is not completely over.
Leba has found a place as an undergraduate research assistant in the Biomedical Optics Laboratory. Here is continues to test varying levels of glucose on rabbit eyes. He analyzes the effects of the different concentrations on the eye with optical coherence tomography – similar to an ultrasound. As he continues work with Assistant Professor of Biomedical and Mechanical Engineering Kirill Larin and his graduate-level researchers, he plans to expand the SURF research and assist on two other biomedical-related projects.
For Leba, the experience, jumpstarted with the SURF Program, has given him a chance not only to work with faculty in a collaborative environment, but learn to better manage time, Leba said.
"The research opportunity I participated in this past summer has greatly enhanced how I approach my studies as well as how I view the scientific world," Leba said. "Doing research this past summer and seeing all the other Undergraduate Research Day participants' projects has shown me that a successful career is only an arm's reach away for us. We're all undergrads, but are already doing what I find to be interesting and influential to our respective fields. The whole experience has been a real confidence booster for me about my future."
Department/Academic Programs: