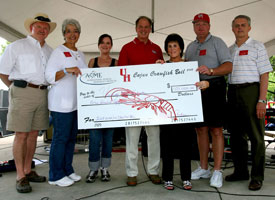 The large crowd at the University of Houston and American Society of Mechanical Engineers' annual Cajun Crawfish Boil fundraiser paid off big for students seeking scholarships in the Cullen College of Engineering.
Event Chair Diane Ashen estimates the May 4 event—now in its 20th year—raised more than $150,000 in scholarships. That's more than double the $75,000 raised in 2007.
"It's a huge jump," Ashen said, noting she attributes the increase in funds to the day's sunny weather, the addition of several sponsors and BP, the event underwriter.
In the event's lifetime, the crawfish boil has raised close to $1.5 million for undergraduate student scholarships. Founded by UH alumnus Benton F. Baugh (1967 BSME), the crawfish boil was launched two decades ago as the kickoff event for the annual Offshore Technology Conference.
This year's event drew more than 7,000 alumni, faculty and supporters to Lynn Eusan Park at the University of Houston in early May to enjoy children's games, dancing and live music by the Houston-based band Stephen Chadwick and the Tonkmachine. Attendees ate hundreds of pounds of barbecue and more than 17,000 pounds of crawfish.
Department/Academic Programs: