Posted on September 13, 2007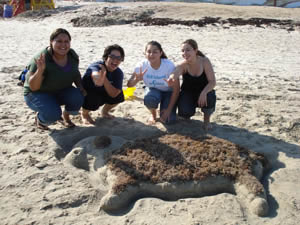 During the 2nd Annual Women-in-Engineering Retreat held September 8, UH Cullen College of Engineering students journeyed to Galveston for day of personal development workshops and teambuilding activities.
The event, sponsored the college's WELCOME (Women in Engineering Learning Community for Maximizing Excellence) program, drew thirty-five female engineering students and several engineering professionals from the Houston area to attend a special workshop by lifestyle career counselor, Dr. Valerie Young.
During her workshop titled "How to Feel as Bright and Capable As Everyone Seems to Think You Are," Young teaches participants how to overcome the "Imposter Syndrome," which refers to an individual's self-doubt about his or her competencies and abilities.
"The workshop atmosphere created by Dr. Young allowed our students to realize that even though they are extremely capable, self-doubt can prevent them from reaching their full potential," said Julie Trenor, director of the WELCOME program and director of retention and recruitment at the college. "It further fostered a community spirit among our female students, which is the mission of our WELCOME program."
In addition to the professional and personal development workshop, students also participated in a sand sculpting competition as part of the retreat's focus on team building. Teams of students were challenged to sculpt their favorite marvel of engineering into the sand. Marvels including space shuttles, Aztec ruins and aquaducts made appearances on Galveston Beach, but it was the Dolly the Sheep sculpture that took the prize for most the most original idea and a sculpture of a racecar that took the grand prize.
According to the students, the sand sculpting competition, along with the workshop presented by Dr. Young, made the 2nd annual retreat a great success.
"After both WELCOME retreats, I have walked away with a greater sense of self confidence and a new friend each time," said Brandy Jones, an industrial engineering junior. "I now look forward to the retreat each year because I know it will give me a chance to escape the sometimes crazy world of academics and allow me to focus on aspects such as establishing friendships with other females and learning how to be a better person through the speakers and activities that are offered. WELCOME is great!"