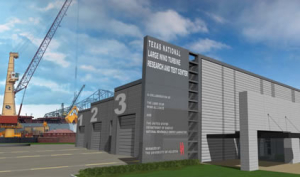 The Department of Energy has selected the University of Houston-led Lone Star Wind Alliance as a partner in the development of one of the nation's first facilities for developing and testing large-scale wind turbine blades to be utilized for offshore wind generation.
"We are very excited about this opportunity," said UH Cullen College of Engineering Dean Raymond Flumerfelt. "It will directly result in a University of Houston-directed, world-class research facility in Texas to test large wind turbine blades and wind system components. It is also an important first step in establishing Texas as a global leader in wind energy technology and providing an important support base for a projected half trillion dollar global industry."
The alliance will receive up to $2 million worth of wind-energy test equipment from the DOE. A group from Massachusetts will also receive equipment from the DOE to develop a similar facility on the East Coast. The Texas and Massachusetts coalitions were selected out of a pool of six candidates that also included groups from Iowa, Maine, Ohio and Virginia.
The Cullen College of Engineering played a major role in securing the facility for the Lone Star Wind Alliance. The winning proposal was written by Dean Flumerfelt and Su Su Wang, distinguished university professor of mechanical engineering. Wang will be one of the facilities primary researchers, focusing on the development of light, strong and corrosion-resistant composite materials for turbine blades.
"The facility will be critical in developing more efficient, cost effective and durable wind energy turbine blades," said Wang. "It will eventually be able to test blades up to 100 meters (300+ feet) in length in both dynamic and static modes. It will also be critical to attracting leading turbine manufacturers to the State and region."
The Lone Star Wind Alliance's facility will be located in Ingleside, Texas, just north of Corpus Christi. Located on the Bay of Corpus Christi with access to the Gulf of Mexico, the $24 million facility will be capable of testing blades measuring up to 100 meters long—a size typically reserved for offshore wind power generation.
The alliance's facility will be built through a public/private partnership organized through the DOE's National Renewable Energy Laboratory. Private wind turbine and blade manufacturers should fully fund the facility within five years of its construction.
Texas is already the nation's leader in wind power. The state produces more electricity from wind power than any other, and its long coastline makes it an ideal home for offshore wind farms.
A number of groups were vital to the success of the Lone Star Wind Alliance's proposal. The Texas Legislature pledged $5 million toward the construction of the facility, while another $5 million is pending final approval through the state's Emerging Technology Fund. Texas' congressional delegation also strongly backed the effort, with Sen. Kay Bailey Hutchison championing the effort.
The membership of the Lone Star wind Alliance includes: the University of Houston; the Texas General Land Office; Texas Workforce Commission; Texas State Energy Conservation Office; Texas A&M University; Texas Tech University; University of Texas–Austin; West Texas A&M University; Montana State University; Stanford University; New Mexico State University; Old Dominion University; the Houston Advanced Research Center; BP; DOW; Huntsman; and Shell Wind.
Related Press Releases
University of Houston
Department/Academic Programs: