Posted on February 7, 2007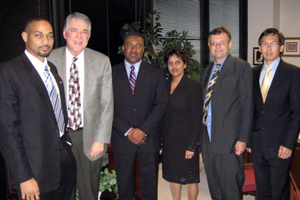 A delegation from Jamaica made a visit to the Cullen College of Engineering to discuss the college's energy initiatives and to explore the possibility of developing an educational partnership. The Jamaican Minister of Industry, Technology, Energy & Commerce, the Honourable Phillip Paulwell, led the group comprised of several individuals from Petroleum Corporation of Jamaica (PCJ), Petrojam Limited and the University of West Indies at Mona, Jamaica.
In an effort to improve fossil fuel production and expand renewable energy research in Jamaica, the delegation seeks to partner with American institutions with strong energy programs and research in the areas of petroleum engineering, wind energy, biodiesel and biofuels, such as the University of Houston.
A partnership will most likely involve the exchange of graduate students for advanced training and faculty members for participation in joint-research projects. The country is in the process of establishing a center of excellence in alternative energy and hopes to expand its research capabilities into wind to stabilize energy demand.