Posted on October 4, 2006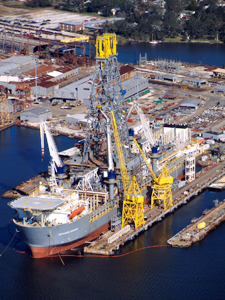 An invention patented by Bob Herrmann, a graduate of the University of Houston Cullen College of Engineering, was named one of the 50 most important developments in the history of offshore drilling by Offshore magazine.
Herrmann, an independent consultant to the petroleum industry, earned his B.S. and M.S. in mechanical engineering from UH in 1972 and 1973, respectively.
Along with two other individuals, he patented the dual-activity drilling system in 1996. Dual-activity drilling allows two drills to be operated by a single large oil derrick. According to the magazine, Transocean, one of the world's largest offshore drilling contractors, employed the first dual-activity drilling system used in ultra deep-water offshore drilling in 1998.
The system is valuable in offshore drilling because its two drills significantly cut the time required to conduct deep-water operations, thereby reducing costs.
"It's a method to improve efficiency in deep-water drilling," Herrmann said. "Our goal was 40% improvement in time. We pretty much meet that depending on the type of operation and the depth of the well."
The development proved important enough that several patent disputes quickly arose around the technology. A federal court, however, upheld Herrmann's patent last month.
In addition to being included as its own entry, the dual-activity drilling system made a second appearance in Offshore's list. In 2003, it was used to create the first well to be drilled in more than 10,000 feet of water.
Published in August of 2005, the list compiled by Offshore includes events that date back to the beginning of offshore drilling in the 1890s. Other notable events on this list include the construction of the first offshore well, the beginning of oil exploration in the Gulf of Mexico and the development of offshore pipelines.
Department/Academic Programs: