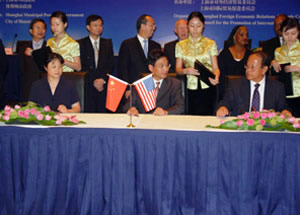 The University of Houston has signed an agreement with East China State University of Science and Technology and the Shanghai Jinshan District People's Government that may lead to cooperative research and educational efforts.
The memorandum of understanding was signed on July 17 at an official ceremony in Shanghai. Steven Pei, professor of electrical and computer engineering with the University of Houston Cullen College of Engineering, and Yali Zao, director of the university's Asian American Studies Center, represented UH at the event. Also attending the signing were Houston Mayor Bill White, Texas Senator Rodney Ellis, Houston City Council Member Ada Edwards, Vice Mayor of Shanghai Yupeng Zhou, and representatives of ECUST and the Shanghai Jinshan District People's Government.
Initially, said Pei, the MOU may entail cooperation on research projects and educational efforts in engineering fields. For example, professors with ECUST may design their experiments to complement research being conducted at UH, and vice versa. This cooperation could encourage some professors to visit their partners overseas and teach classes while there, Pei added.
In addition, the educational portion of the MOU could conceivably involve a student exchange program, allowing the university to bring in outstanding students from ECUST.
"The student-transfer aspect of the MOU will give us the ability to school their top students here and possibly recruit them to graduate school," said Pei.