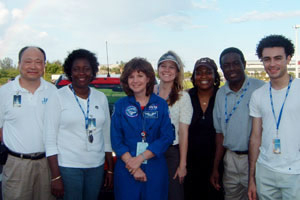 Sandra Geffert, a mechanical engineering graduate student with the University of Houston Cullen College of Engineering, attended the July 4th launch of the space shuttle Discovery as an invited guest of NASA Assistant Administrator for Education John M. Hairston, Jr.
Geffert (2001 BSME, 2003 MSME) was invited as a recipient of a NASA Harriet G. Jenkins fellowship, which provides funding to members of underrepresented groups attending graduate school on a full-time basis. Recipients' graduate studies must focus on NASA-related projects in science, technology or education.
In her research, conducted under Associate Professor of Mechanical Engineering Stanley Kleis, Geffert is creating a space bioreactor with a capacity of about one milliliter. The reactor will be used to culture cells, enabling NASA scientists to study the effects of microgravity, radiation and other stressors on these cells.
Geffert and Kleis' bioreactor differs from similar pieces of equipment in that its operation can be completely automated. Since it doesn't require any human intervention to work, the unit can be sent into space on unmanned rockets to conduct experiments, she said.
Though 20 NASA Jenkins Fellowships are awarded each year, "they invited just two of us to the launch, so it was a tremendous honor," Geffert said. "They gave us an up-close tour of Kennedy [Space Center]. We saw some behind-the-scenes spots close to the launch pad, so we saw how they go through the setup of a shuttle launch. Then we went to Banana Creek, which is the VIP area for watching a launch."
Department/Academic Programs: