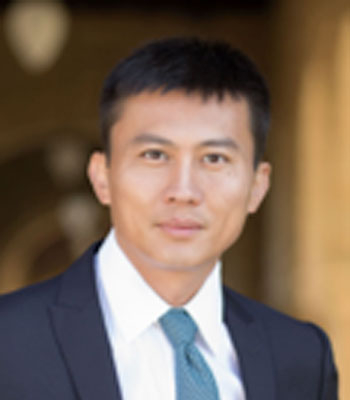 Yi Cui

, Professor of Materials Science and Engineering, of Photon Science, Senior Fellow at the Precourt Institute for Energy and Professor, by Courtesy, of Chemistry, Stanford University
Nanomaterials Design for Energy and Environment
Nanomaterials have provided a powerful system of materials which can address critical energy and environmental problems and enable new opportunities. In the past decade, my group has conducted research to address problems related to energy conversion, storage and saving, and environment cleaning (air, water and soil). In this lecture, I will show a number of exciting examples, including: 1) high energy battery materials: Si and Li metal anodes and S cathodes; 2) electrochemical tuning of catalysts; 3) Cooling and heating textile for personal thermal management. 4) PM2.5 filtration, water disinfection and heavy metal removal from soil. Nanotechnology represents the most important foundational technology platform to impact these important areas.
Yi Cui is a Professor in the Department of Materials Science and Engineering at Stanford University. He received B.S. in Chemistry in 1998 at the University of Science and Technology of China (USTC), Ph.D in 2002 at Harvard University. After that, he went on to work as a Miller Postdoctoral Fellow at University of California, Berkeley. In 2005 he became an Assistant Professor in the Department of Materials Science and Engineering at Stanford University. In 2010 he was promoted with tenure. He has published ~430 research papers and has an H-index of 180 (Google). In 2014, he was ranked NO.1 in Materials Science by Thomson Reuters as "The World's Most Influential Scientific Minds". He is a Fellow of Materials Research Society, Electrochemical Society and Royal Society of Chemistry. He is an Associate Editor of Nano Letters. He is a Co-Director of the Bay Area Photovoltaics Consortium and a Co-Director of Battery 500 Consortium. His selected awards include: Dan Maydan Prize in Nanoscience (2019), Nano Today Award (2019), Blavatnik National Laureate (2017), MRS Kavli Distinguished Lectureship in Nanoscience (2015), the Sloan Research Fellowship (2010), KAUST Investigator Award (2008), ONR Young Investigator Award (2008), Technology Review World Top Young Innovator Award (2004). He has founded three companies to commercialize technologies from his group: Amprius Inc., 4C Air Inc. and EEnovate Technology Inc.
Time:
10:00 am

to

11:30 am
---
About Elizabeth D. Rockwell

A fourth generation Houstonian, Mrs. Rockwell was an Executive Director, Private Client Division of CIBC Oppenheimer Corp. She was widely recognized as an expert in retirement, estate, investment, and tax planning. She was an early proponent of the Keogh and IRA plans, for which she has been nationally recognized.
In 1991, she qualified to be a member of the Million Dollar Round Table as well as the Texas Leaders Round Table. Since 1990 she had authored a monthly column for the Houston Chronicle.
Mrs. Rockwell served as President of the UH College of Business Administration Foundation Board, as a member of the Dean's Advisory Board, and was an Executive Professor for the college. She also served as a member of the advisory board of the Health Law and Policy Institute and as a Trustee of the University of Houston System's Foundation, as well as a member of the UH System's Planned Giving Council.
Mrs. Rockwell served on the Board of Governors for the Houston Forum, and as a Board member of the American Red Cross, the Greater Houston Women's Foundation, the University of Houston Alumni Organization, and the Greater Houston Preservation Alliance. She was a member of the River Oaks Business Women's Exchange Club, the National Tax Sheltered Annuity Association, the Texas Association of College Teachers, and the Houston Association of Life Underwriters.
Among her numerous honors, she has received an Honorary Doctorate of Humane Letters from the University of Houston, the Distinguished Alumna Award from the Houston Alumni Organization and from the UH College of Business Administration. Throughout the years she has been recognized for her many achievements by the Education Foundation of Harris County, the Houston Community College System's Television Station Advisory Council, and the Houston Mayor's READ Commission.
The Houston Alumni Center is home to the Elizabeth D. Rockwell President's Suite. In September 1997, the Elizabeth D. Rockwell Career Services Center was opened in the UH College of Business Administration. She endowed the Chair for the Dean of the M.D. Anderson Library.
Mrs. Rockwell was listed in the Who's Who in the South and Southwest; Who's Who in finance and Industry; Who's Who of American Women; and Who's Who in the World.